Product List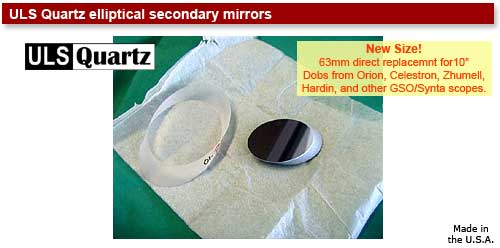 Features:
Applications include reflector telescope secondary mirrors, optical bench set-ups, or reference flats.
Each piece is serialized, tested, and supplied with an interferometric report. (0.1 p-v is the minimum flatness quality.)
10-5 scratch/dig, and 2-4 nm rms micropolish roughness for low laser scatter.
High-efficiency 96% (avg visible reflectivity) broadband coating.
Dielectric overcoating applied with ion-assisted deposition (IAD) process for enhanced durability [meets or exceeds MIL-M-13508 (260 kB pdf)].
Suitable for visible, near-IR, and near-UV low-power laser applications. (Laser damage threshold is 70 W/cm² (20 Hz cyclic) at 1064 nm.)
CNC machined fused silica substrate for a precise fit into the holder.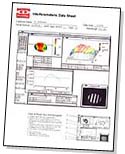 Fused silica makes an ideal mirror substrate. Its high hardness results in the smoothest micropolished surface possible, and its thermal dimensional stability allows the optician to produce a flat surface with almost no edge defects. Surface flatness is a minimum quality of 0.1 wave peak-to-valley on the wavefront (edge-to-edge testing @ 633 nm), and an interferometric test report is included with each serialized flat. (Each flat has a unique serial number etched into the substrate.)
ULS Quartz mirrors make superb Newtonian telescope secondary mirrors, or low-scatter laser mirrors. They can be used in temperatures from cryogenic temperatures (-200º C) to over 500º C, while retaining their surface accuracy. Their surface accuracy is not affected by localized temperature gradients like those generated by antidew heaters, or other nearby heat sources.
Ultrasmooth surface polish

Fused silica is harder than almost any other substrate material. Typically, it will polish 2 to 4 times smoother than Pyrex glass. The atomic force microscope (AFM), with its sub-angstrom resolution capability, reveals the difference. These AFM scans (click on image) were produced for Protostar by Charles Evans & Associates (Sunnyvale, California), and are of actual Protostar production samples.
Efficient, durable, broadband coating
Our ULS Quartz mirrors are coated with aluminum with TiO2 and SiO2 dielectric overcoats applied with the latest EBD/IAD technologies. The average reflectivity in the visible spectrum is 96% (see graph for complete response curve). Our coatings exceed the MIL-M-13508 specification.
Size, weight, and coating specifications
Size

Thickness

Edge bevel (max)

Coating

Reflectivity @ 45° AOI

Weight

0.75"

0.25"
(6.4 mm)


0.015"
(0.4 mm)

aluminum + IAD dielectric layers

6 g

1.00"

0.25"
(6.4 mm)

0.015"
(0.4 mm)

12 g

1.30"

0.30"
(7.6 mm)

0.015"
(0.4 mm)

26

1.52"

0.35"
(8.9 mm)

0.020"
(0.5 mm)

36 g

1.83"

0.43"
(10.9 mm)

0.020"
(0.5 mm)

56 g

2.14"

0.58"
(14.7 mm)

0.020"
(0.5 mm)

108 g

2.48"

0.47"
(11.9 mm)

0.020"
(0.5 mm)

135 g