Optional features for straight-vane secondary mounts
Straight-vane Protostar secondary mounts can be ordered with optional features to enhance their functionality. Please note that these options must be specified when you order a mount, as they cannot be retrofitted later.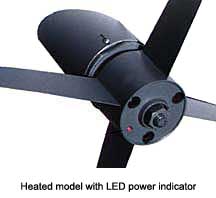 With the optional built-in anti-dew heater, your secondary mirror will remain dew-free all night long. The spider vanes conduct the electricity, so there are no wires to thicken the spider vanes. A red LED power indicator is recessed into the front face to prevent stray light from interfering with CCD imaging. (Due to our tooling, the LED is omitted on 3-vane mounts ordered with the antidew heater option.)
The anti-dew heater requires a DC power source that you supply (typically a battery). When operated at full voltage (~12v DC), the heater will clear existing dew in about fifteen minutes. The heater can also be used in a "preventative mode" (i.e., turned on before dew forms) with as little as 3 volts.
The anti-dew heater is available for 4-vane, 3-vane, and Cassegrain secondary mounts with secondary sizes of 1.52" or larger. The anti-dew heater cannot be retrofitted to existing secondary mounts. Includes supplemental instruction sheet.
(Note: The anti-dew heater is not self-powered, and requires power from an external source that you provide. Read more (110 kB pdf) about how to install and use secondary mounts with the anti-dew heater.)
| | | |
| --- | --- | --- |
| Description | Price (US$) | |
| Anti-dew heater for 1.52", 1.83", and 2.14" secondary mounts | add $40.00 | |
| Anti-dew heater for 2.60" to 4.00" secondary mounts | add $45.00 | |
By selecting this option, the lugs on the spider vanes and the collimation screws will use M5-0.8 threads instead of English threads. This option is available only for straight-vane secondary mounts. There is no extra charge for this option.
| | | |
| --- | --- | --- |
| Description | Price (US$) | |
| Metric thread option for spiders (M5-0.8) | no charge | |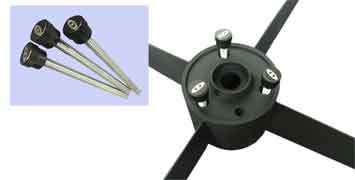 This kit permits finger-adjusted collimation for most Protostar straight-vane and curved secondary mounts. The thumbscrews feature fully-threaded aluminum shafts, and are custom designed and tooled for Protostar secondary mounts.
This kit can be ordered as an option on new mountings, or retrofitted to Protostar mounts made after 2005. (Earlier models can be retrofitted after a minor modification to the spider hub.) Currently available for 1.52" through 3.10" secondary mounts with standard English (#10-24) threading. Made in the U.S.A.
| | | |
| --- | --- | --- |
| Description | Price (US$) | |
| Finger adjustable collimation kit (3 thumbscrews) for 1.52", 1.83", and 2.14" mounts. English threading. | $12.50 | |
| Finger adjustable collimation kit (3 thumbscrews) for 2.60" to 4.00" mounts. English threading. | $15.00 | |